We've all had a little more at home time lately than in years past. Hopefully, reading together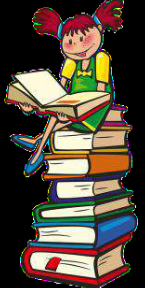 has
become or continues to be a favorite activity in your home. Here are some ideas to find great children's books and some tips on what to do once you're sitting down, reading together.
Be sure to take regular adventures to your local public library, Little Free Library, garage sales, a bookstore, or a used bookstore to keep your children's lives enriched beyond measure!
Make sure children are regularly bringing books home from the Bacon library.
Swapping favorites with neighbors is a good way to learn about new books.
Look for award-winning books. Each year the American Library Association selects children's books for the Caldecott Medal for illustrations and the Newbery Medal for writing.
Check the book review section of newspapers and magazines for the recommended new children's books.
Have children read aloud in the kitchen while you are cooking or washing dishes.
Encourage children to take turns reading the bedtime stories so everyone can spend time reading AND listening.
Cuddle in a chair together alternating the adult reading one side of the book and the child reading the other.
When reading aloud to budding readers, point to the words as you read them. This will help develop sight recognition of words.
If a child is reluctant to read aloud to an adult, have them read to a pet, stuffed animal, or younger sibling. Many humane societies welcome kids to read to the animals waiting to be adopted as well.
Allow children to read wherever they enjoy reading: a special chair, by the pool this coming summer, under a tree, etc.
Put a tub of books in your car and encourage your child to read the minutes away as you run errands or on road trips. Passengers can read to children during car trips, too—a terrific alternative to video gaming or movies.
Never leave home without a book. Whether waiting at a doctor's office or waiting for a movie to begin, have a book ready to read together.
Tell children they can stay up 10-20 minutes beyond bedtime provided they are reading.
Families with older children can read novels individually and then schedule regular book discussions together.
Help your child create a Book Club with their friends.
Model excellent reading behavior in your home and establish an exclusive reading time where the entire family is reading.
Tips for reading together:
It's important to read to your child, but it's also important to listen to them read. Your support and encouragement helps them develop their skills.
Listen carefully as your child reads.
Take turns. Read a paragraph (or page) and have your child read the next one.
Tell your child how proud you are of his or her efforts and skills.
Stay positive, this goes a long way with kids and it makes it more enjoyable.
If your child has trouble reading a word, you can help in several ways: 
Guide him/her to use what they know about letters and sounds to sound out the word.
 Ask him/her to skip over the word, read the rest of the sentence and then say a word that would make sense in the story.
Supply the correct word.
Remember: Your child may be focusing more on how to read each word than on what they mean, so your reading helps to keep the story alive.
I hope that one or two of these ideas will be fresh and fun for you to implement at home with your child. Go find a great book and snuggle up for some cozy reading time with your child. You won't regret it.
Amanda Scranton
Literacy Enrichment