Most importantly, our Bacon Bulldogs have been enjoying IN-PERSON PE! If I'm being totally honest, I have been enjoying it, also. much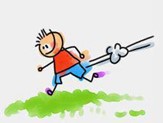 fun as remote PE can be, there's no replacement for being in-person in the gym with their peers playing games and interacting on a team.  Spatial awareness, resolving conflict, playing by the rules, and learning about sportsmanship are all important Physical Education concepts and simply cannot be taught effectively through a screen. So, what have we been doing the first 5 weeks of school in PE?
3rd, 4th and 5th graders have completed their beginning of the year PE assessments. 4th and 5th graders participate in the PACER test, which is a cardiovascular endurance running test, a muscular strength push-up test, and a shoulder flexibility test. These scores were documented, students set realistic goals and later in the year, we'll do an end of the year test to see if students met their goal. Keep in mind that in order for students to see significant improvements, they should be exercising outside of their regularly scheduled PE time.
The older students have also been playing some playground games such as: four square, knockout, poison, and kickball. Ideally, students will consider these as other options when going out for recess. And more recently, 3rd, 4th and 5th graders have been playing Pickleball. Thanks to PTO's generous donation for purchasing PE equipment last year, we were able to purchase 30 pickleball paddles and balls. This has been fun to see students develop skills such as how to serve and forehand and backhand strokes. The unit ends with students playing a modified doubles game  called Champs and Challengers. If you or a family member have talked about playing pickleball, please give it a chance. Ask your 3rd, 4th or 5th grader about it. With only 3-4 weeks of warm weather left, now's the time to pick up a pickleball paddle and ball and head to a court near you.  This game has gained popularity all over the country and understandably so. It's easy to learn to play, it's played on a smaller court than tennis, it's great exercise, and all levels and ages can play, which makes it a lifetime sport!
K-2 students have been climbing on the traversing wall, practicing their locomotor movements such as walking, galloping, skipping, sliding, jogging, and reviewing safety practices while playing tag. We've also discussed what Integrity looks like in PE and the importance of "knowing the rules and playing by the rules even when no one's watching". This is an important foundation for playing games in PE at Bacon and elsewhere.
Stay tuned for dates for PE related events such as the District Track Meet and Field Day. At this time, these dates have not been established. With much uncertainty surrounding the pandemic, we're in a "wait and see" mode. As soon as I get information regarding these events, however, I'll be sure to share the dates.
Thank you, parents, for supporting physical education here at Bacon and I look forward to another great year!
Aaron Crawford (970) 488-5338