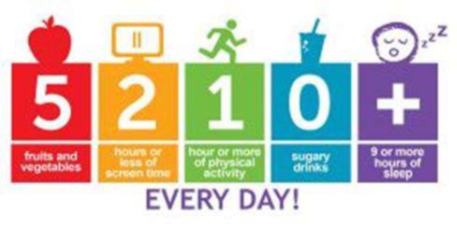 Well, here we go again. Back to in-person learning. Looking back on the last 6 months, I'm continually impressed with students' willingness to adapt, be present, and try hard, despite the craziness that has surrounded them. During virtual PE, we've been resourceful making balls out of socks, hockey sticks out of brooms, golf clubs out of hockey sticks and using
technology to enhance our virtual PE experience. We've done scavenger hunts, freeze dances, video game fitness activities, and holiday themed workouts. All of these are done in bedrooms, basements, outdoors, or anywhere space is available. Fortunately, being back at school allows us to use the great PE equipment we have and maximize our space as well.
Looking forward, it appears that there are about 20-25 contact days in PE for Bacon students from mid January to the end of the school year. I'm excited about the new Specials schedule, where students will have PE for an entire week at a time. This will allow for stronger connections with students. It also allows lessons to build upon each other and skill development. The downside is that students will only get PE one week out of 4. It's essential that students are continuing to move and be active the other three weeks to stay healthy and fit. As we plan to come back to in-person PE, it is my goal to make sure Bacon students are safe, regain a sense of community, learn new PE skills, and have FUN through activity and movement.
Normally, this time of year, we're thinking about Field Day, and the District Track Meet (for qualified 4th and 5th grade students) which happen in May. At this time, I'm unsure of the status of these events. These may or may not happen depending on district guidelines. Please stay tuned for further updates.
One school wide event that IS scheduled for February is the 5210+Wellness challenge. There seems to be no better time than now to get back on track with daily healthy habits. The goal for this challenge is to focus on 5 daily healthy habits:
1. Eat 5 servings of Fruits and Vegetables
2. Get 2 hours or less of recreational screen time (examples: video games, tv, ipad, etc) Homework is ok.
3. 1 hour or more of Physical activity
4. Drink 0 sugary drinks
5. Get 9 or more hours of sleep
***Students that complete the log with 80 or more checks will receive a 5210+ t-shirt with Bacon on the back.
Research shows that good nutrition, daily activity and adequate sleep\ leads to better concentration, increased attention, improved memory, better moods, less fatigue, and improved brain function. HEALTHY KIDS LEARN BETTER! Join the challenge---practice healthy habits and win prize money for Bacon! This challenge is open for all students and parents. Please join us in getting healthier in 2021. There should be a daily log sheet going home soon. Please take this out of your son/daughter's Friday folder and place this on your fridge or somewhere else they will see it every day.

Thanks for supporting PE at Bacon.
Mr. Crawford
acrawfor@psdschools.org
(970)488-5338