Dear Bacon Families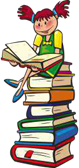 I am excited about my new role as the literacy teacher at Bacon. This is my 15th year teaching here at Bacon and 19th year of teaching altogether. I have taught special education for 12 years and first grade for 6 years. In my new role, I will be providing literacy enrichment in small groups for students who need an extra boost in literacy instruction.
Literacy instruction is such an important foundation to education. Research shows that reading everyday will help to build fluency, comprehension, and vocabulary skills. Making reading an enjoyable activity at home can
 help to assure that our students become lifelong readers. Some simple steps you can do to make reading enjoyable at home are:
·            Create a comfortable reading environment
·            Make reading time a routine
·            Take part in reading time, either reading with or alongside your child
·            Provide a variety of reading materials at an appropriate level- books, magazines, articles, audiobooks, books on a tablet or computer .
·            Talk to your child about what he or she is reading
·            Plan trips to the library or bookstore to find new reading materials that your child is interested in
Creating a warm and inviting environment for reading every day at home can foster the love for reading within your child. I hope these tips can help you in creating that special time for your family.
Happy Reading!  
Debbie Fredericks